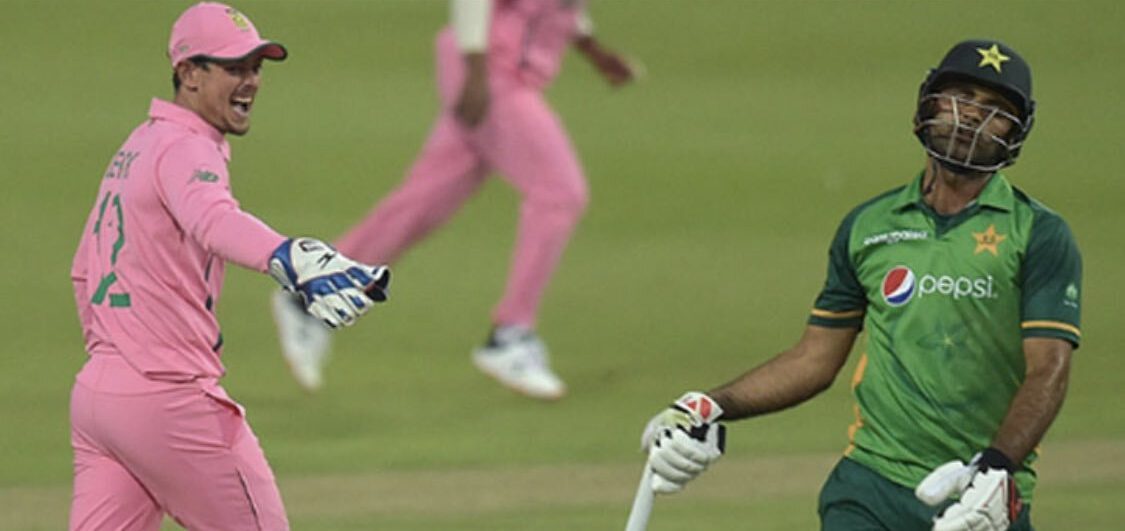 Pakistani cricket fans throughout the nation have been speaking out against Quintin DeKock for intentionally distracting Fakhar Zaman in an ODI game played last night.
Pakistan's run chase was led by Fakhar Zaman who played a beautiful 193 in 155 balls. However the way he got run out is what has caused the stir on twitter.
Zaman hit the ball down his off side and ran for a double with Haris Rauf. However when he was coming back to the crease Quintin DeKock's gesture suggested that the ball had headed to the non strikers end only to be surprised by a run out.
The  Marylebone Cricket Club also took to twitter to explain the law regarding the situation stating "Law 41.5.1 states: "It is unfair for any fielder wilfully to attempt, by word or action, to distract, deceive or obstruct either batsman after the striker has received the ball"
Cricket fanatics, journalists, celebrities have been taking to twitter to suggest their remarks. Scroll down to see.
Should it not be wrong to purposely distract/trick a player midplay running to the crease? Sad to see unsportsmanlike conduct… @ICC #FakharZaman #PakVsSA @TheRealPCB

— Momina Mustehsan (@MominaMustehsan) April 4, 2021
Think the cheeky laugh in the end tells you a story,a rule is a rule & this qualifies as deception under the law. #SAvPAK pic.twitter.com/v3hWcvN7EJ

— zainab abbas (@ZAbbasOfficial) April 4, 2021
What a master inning by @FakharZamanLive. Treat to watch. Single handedly brought the game here.
Sad end to the inning. Deserved a 200.
Was the spirit of the game compromised by South Africa & @QuinnyDeKock69 in that run out??

Full review: https://t.co/bi2f2Qgxij#PAKvSA pic.twitter.com/7Uvt8Ovhpn

— Shoaib Akhtar (@shoaib100mph) April 4, 2021
Record breaking inning. Simply Outstanding @FakharZamanLive 🇵🇰. What about this cheeky giggle from Quinton tells you 🤔? #SAvPAK pic.twitter.com/5HD0sLYTk1

— Waqar Younis (@waqyounis99) April 4, 2021
Not how we play the gentlemen's game #QuintonDeKock #PAKvSA pic.twitter.com/0cojcZu9Im

— Shifa Habib (@shifa_habib) April 4, 2021
The smile deceivers have on their faces is so evil. Karma will take good care of Quinton de Kock. The @FakharZamanLive's batting today would be written in golden #fakharzaman#QuintonDeKock pic.twitter.com/O6ArdFaytE

— M.S.Umar (@MSUmarKamboh3) April 4, 2021
#QuintondeKock
He had written his destiny last night that …. "He is never gonna be a Man Legend and never gonna ranked high in hearts of cricket lovers" pic.twitter.com/cBORHdfxwF

— Waqas Ahmed Gondal (@ahmedwaqas800) April 5, 2021
This isn't the way we play gentlemen's cricket. Just a run out changed #fakharzaman into hero nd #QuintondeKock into a cheater:'( pic.twitter.com/WMEY6RJZJ5

— :'( (@Dactar_To_Be) April 5, 2021
In Search of Gold🔥 ICC found a Cheater😓#fakharzaman #QuintondeKock #PAKvSA pic.twitter.com/sNH7RGUtuL

— 爪Ҝ 卂尺|卩卄 (@hushh_hushhh) April 5, 2021
This scene hurt me!💔

#QuintondeKock #fakharzaman pic.twitter.com/ISemsxIhey

— Muhammad Sameer🇵🇰 (@muhsameer48) April 5, 2021

What are your comments on the issue, do you think the deception at the hand of Quintin DeKock counts as cheating or was it just a skillful trick, do let us know in the comments section here.