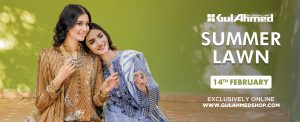 Summer is here—and it's time for vibrant hues, bright colorsand breezy fabrics. Put away the blues of winter and wholeheartedly embrace the lawn season which is coming in full swing.
Launching exclusively online on February 14 at gulahmedshop.com, GulAhmed Lawn 2023 Collection brings a rich, vivid assortment of Lawn, Chiffon, Organza, and Jacquard ensembles with larger-than-life artisan printed and embroidered detailing. The collection will be available in-stores from February 16.
With the wide array of refreshing colors and charming prints to choose from, the new lawn collection will help you look effortlessly chic this sunny season.
Known for its high-quality fabric and trendy designs, GulAhmed's latest collection is a fashion lover's dream come true. The aesthetic, colors, and styles present a unique combination of ethnic prints merging in with contemporary designs.
Here's what you can expect from GulAhmed Lawn Collection 2023.
A Cultural Nod to Ajrak
Dressing in the infamous Pakistani heat feels like the biggest task. Wearing clothes you love seems like a hassle, but luckily, GulAhmed's Ajrak Collection is an amalgamation of top qualityand traditional prints on modern color schemes giving you the perfect casual look during the hot months.
Fabulously Feminine with Flowy Chiffons
Apart from being the ultimate summer choice, these timeless pieces showcase attention to detail on breathable fabric paired with flowy chiffon dupattas that tie in the entire look. Wear it to a summer brunch or tea time gathering and become the center of everyone's attention. The Summer Premium 2023 Collection is filled with gorgeous chiffon dupatta suits that can be a part of your formal wardrobe.
Always in Style – Chunri
When in doubt, go for the all-time favorite Chunri suits. These classy ensembles can be worn in an ethnic manner for the true desi girl. Or, in a contemporary manner for the girl that loves experimenting with her style.