The summer season is in full swing with Eid around the corner, women are looking for fast fashion solutions to festive wear during the pandemic. Online shopping offers ladies the chance to buy their favourite fashion brands from the comfort of their own sofa.
The latest collection by Ethnic by Outfitters has a range of 3-piece and 1-piece designs in Boutique and Casual collections that are multipurpose and luxurious. The following list is all the best summer festive wear designs by Ethnic to beat the heat while not compromising on fashion.
1. BOUTIQUE SUIT (WTB101658)
PKR 9,990.00
This suit has delicate embroidery that feels handcrafted with a blend of silver thread and multicoloured silk thread embroidery with floral patterns. The colour is subtle ideal for a hot summer day keeping you feeling fresh and cool made from lawn fabric. The cambric pants are structured without being too thick allowing you to comfortably host your Eid lunch and dinner while not worrying about too many wrinkles and creases. The best part about this outfit is the Poly Viscose Multi Stripe Dupatta that is a burst of colour well balanced with the elegant pastel hues of the suit.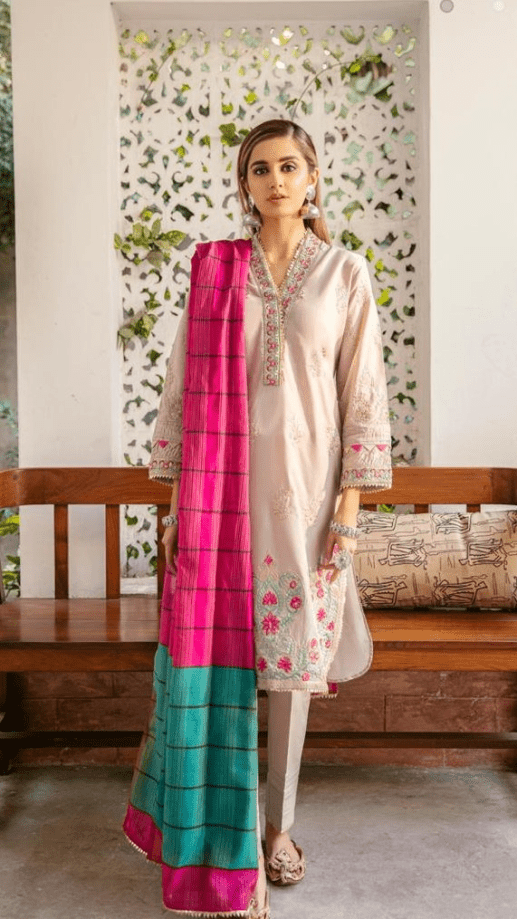 2. BOUTIQUE SUIT (WTB101608)
PKR 8,990.00
Inspired by the iconic Chitta Patti traditional motif these statement pants can be worn with multiple shirts and dupattas. This is a 2-piece suit with a short straight structure that is a blend of western and eastern aesthetic. The Jacquard cloth has a silver motif woven into the fabric that makes it look embellished enough to wear as a formal outfit. The soft drape of the shirt and pants feels light on the skin and the colour is a blush pink perfect for summer.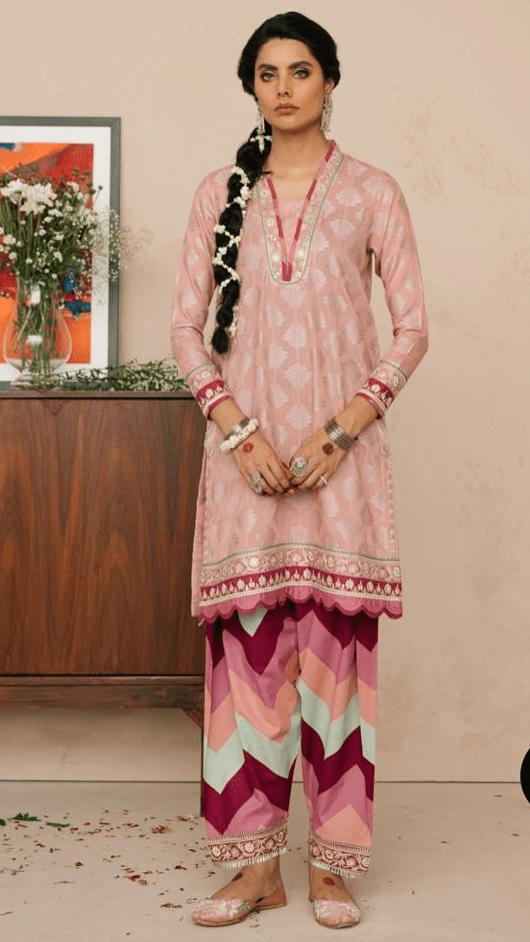 3. BOUTIQUE SHIRT (WTB101642)
PKR 6,990.00
The Poly Viscose Jacquard one-piece shirt as the traditional Pishwas frock design that feels regal without being heavy to wear. The lightweight fabric has gold stripes woven into the fabric making it soft to wear on a hot and humid day. The fresh mango colour is a summer delight to wear paired with gold wire threadwork that has a traditional Mughal miniature motif.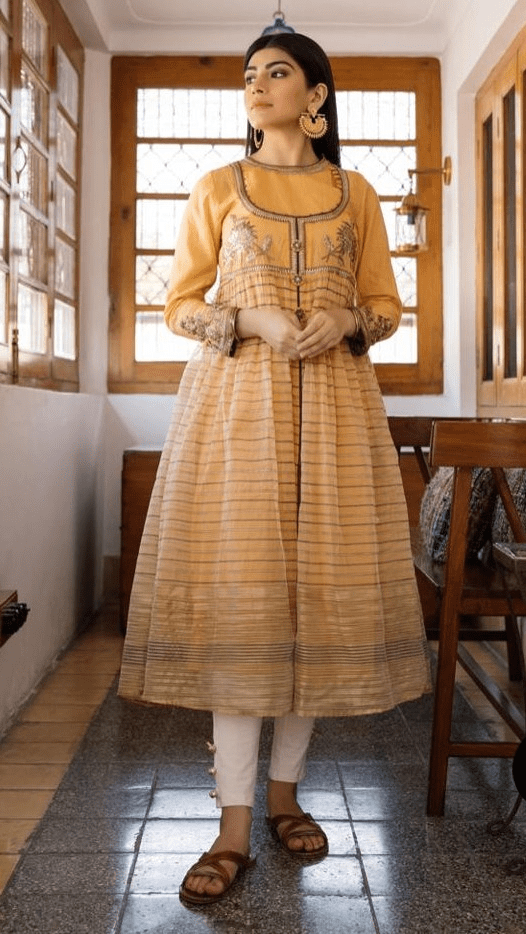 4. CASUAL SHIRT (WTC201056)
PKR 4,990.00
The casual line by Ethnic has bright colours such as this yellow that highlight the statement embroidery that is modern and unique. The diagonal threadwork pattern looks contemporary without losing its traditional threadwork appeal. The Cotton Linen shirt has a stylish neckline with scallops that look tasteful and minimal. The bell sleeves are an essential summer design that keeps you feeling cool and comfortable all day.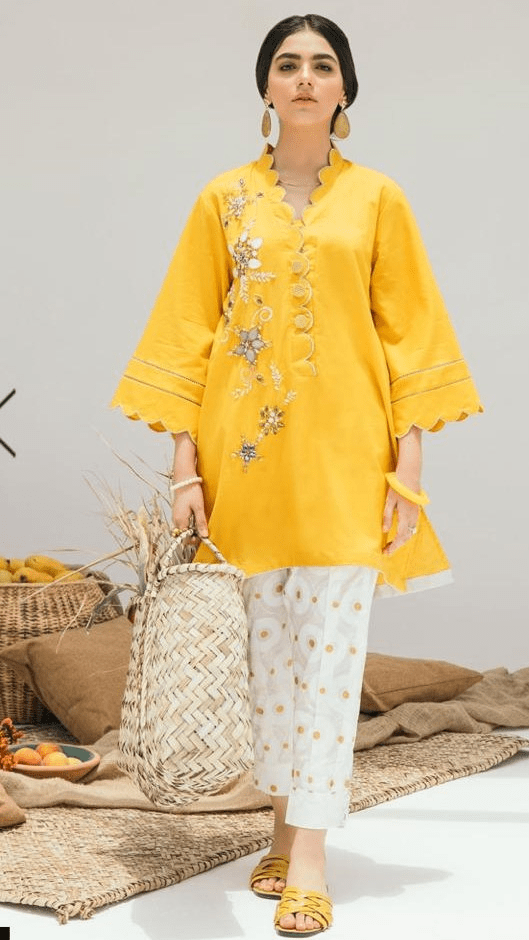 5. CASUAL SHIRT (WTC201058)
PKR 3,990.00
The classic white kurta is still considered a must-have for every summer season. This elegant gold and white combination is on Cotton Linen fabric. The whimsical gold wire on white cotton thread embroidery feels has butterfly motifs and foliage patterns. A crisp white shirt doesn't absorb any heat from direct sunlight. The shirt is a one-piece statement outfit with a mid-length hemline that can be paired with straight pants or cigarette pants. The gold piping has a luxurious finish making this an understated festive design that can be worn casually to lunches and brunches with friends or family.