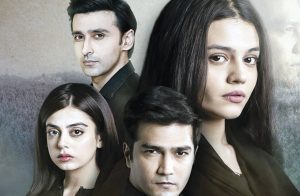 Drama serial 'Phaans' featuring Zara Noor Abbas, Sami Khan, Yashma Gill and Shehzad Sheikh just aired its very first episode and here's how people are reacting to it:
#Phaans has started off well. Shehzad Sheikh nailed it!

— paisleypoint (@paisleypoint) February 21, 2021
Drama Phaans: Zara and her sister are taken by their mother to live for two weeks at her boss's house as the boss needed their help in connection with wedding of her daughter with Sami Khan. When there they noticed a mentally retarded Shahzad Sheikh, son of the boss.

— Asrar Masud (@masud_asrar) February 21, 2021
First mega episode of Phaans was phenomenol😍👏🏻
It was very well executed and the performances were brilliant👏🏻💯
Looking forward to the next episode😍#phaans #samikhan #zaranoorabbas #yashmagill #hirakhan #shahzadsheikh pic.twitter.com/8qVRATH6fA

— Lollywood (@Lollywood17) February 21, 2021
Loved it! All the team members have done their job with perfection. I found the epi full of suspense and mysteries. You all are magical. Each and every scene is a proof of how much you guys had put your efforts in making it a masterpiece. #Phaans will be breaking the records. IA! https://t.co/NkQmKeru4J

— Aleeza Khalid Khan 🇵🇰 (@AleezaKhalid) February 21, 2021
Finally a drama that makes logical sense and has an interesting story line👏🏻 #phaans is going to break all records and impact Pakistan society in a powerful way 👏🏻 https://t.co/J5xrNg7969

— 🌸 رُبَاب (@umayy_m) February 22, 2021
@tomtomatoe Have you watched phaans? Seems like some elements are inspired from Pyar ke Sadqay am getting that feeling abusive father and mentally challenged son part🤦🏻‍♀️🤦🏻‍♀️ But omair rana and bilal abbas were way better lol

— Dramafan (@KhyberSKY) February 22, 2021
Written by Samina Ejaz while directed by Ahmad Kamran, the drama serial highlights the story of a rape survivor alongside a victim of Downs Syndrome.
The drama serial addresses vital social issues making it impactful on the audience. The drama serial airs every Saturday at 8 pm on HUM TV.
Did you watch the first episode of Phaans? If yes then let us know what your thoughts are on the episode and serial in general by dropping a comment on our Instagram page!
Until next time!