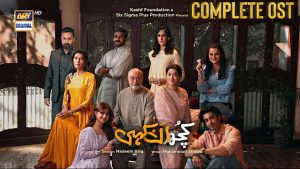 Starring Sajal Aly and Bilal Abbas as main leads, Kuch Ankhai is a fan favorite for bringing a light hearted comedy back to the screens. The pair was last seen in the film 'Khel Khel Mein' and drama 'O rungreza'. Kuch Ankahi is written by Syed Mohammad Ahmed and directed by Nadeem Baig. It is produced by Kashf Foundation in collaboration with Six Sigma Plus.
Sajal Aly described the show as: "This is the kind of old-school PTV family drama that you still remember. You'll cry, you'll laugh, and you'll celebrate with us. It's a lot of emotions together."
The pair is charming the viewers with their candid banter as Salman and Aliyah who happen to be business rivals. Their chemistry has always been loved by viewers but this drama is receiving unparalleled appreciation.
Netizens have described the drama as 'relatable' and 'refreshing'. While the nok-jhok is something we all love to see, the drama carefully highlights social issues as well. Also, what we really love is how Sajal's role as Aliayah distances itself from that mundane bechari female lead and takes life head on! Furthermore, the characters have a feisty as well as a an emotional side to them. Mira Sethi as Samiya and Sajal as Aliyah had a very heartwarming scene which is the sisterhood we crave to see on screens.
The non toxic enemies to lovers trope is something we hate to love but it is what it is 😛
TMI: Sajal Aly with her long dreamy hair and chic bangs is all set to become the nation's sweetheart again.
They look….. Perfect!!!! <3#kuchAnkahi#BilalAbbasKhan #SajalAly pic.twitter.com/JRvPpWE1sJ

— ✯ (@manmarzziyan) January 12, 2023
its aaliya's dayy!!#kuchankahipic.twitter.com/kLa9vryvEA

— bbg's day (@mash1ting) January 14, 2023
The best part about Aaliya and Salman's dynamic is that their fights are reasonable! They're pretty much rivals at work, and it shows… talk about effortless chemistry between two characters, and this is what you should expect ✨️💗💯
||#SajalAly #BilalAbbasKhan #KuchAnkahi|| pic.twitter.com/yGQKMug9er

— ✨️❤️‍🔥 (@kaafikhoobsurat) January 15, 2023
A lot gets said about how good Sajal is when it comes to playing characters that have a feisty side to them. But she is equally amazing when it comes to those quiet moments. This scene has my whole heart!❤ Teared up seeing Aaliya so vulnerable. #SajalAly #KuchAnkahi pic.twitter.com/4EAAGPPGxz

— ♡aalooparatha&chai♡ (@cozy_winter_sun) January 15, 2023
You're making a classic?
You need Sajal Aly!

《#SajalAly #KuchAnkahi》 pic.twitter.com/twILrO7tRc

— Aarzu-e-Na Saboor (@QasimKiSassi) January 7, 2023
this seems like "friends to enemies to lovers" trope cos i think (i might be totally wrong) this flashback kinda implies that they were friends but their profession came in the middle. and now they are enemies (cute ones tho hehe). #kuchankahi pic.twitter.com/9P0nqeg0zo

— faizan (@binroyeaansu) January 8, 2023
The drama airs every weekend and has only released two episodes. You can watch it on ARY Digital at 8 p.m.