Documentary ' A life too short' premieres at DOC NYC fest
Qandeel Baloch (Fauzia Azeem) was a social media celebrity and an activist. She was Pakistan's  first social media sensation and rose to prominence due to her bold videos on her social media handles, discussing her daily routine, her rights as a Pakistani woman, and various controversial issues.
She was one of the top 10 most searched for persons on the internet and many supported her while a great amount of people criticised the content of her videos on the internet. Things just got serious for her when she posted a video of her meeting a religious scholar that landed the scholar into hot water.
Qandeel was found dead on the 15th of July in 2016. She went to visit her family and was drugged and then asphyxiated by her brother M. Waseem. Her parents filed an FIR against their son and in 2019 was jailed for life for her murder. Her murder was widely condemned by media celebrities and people around the globe.
Many documentaries were made on her life and a famous drama Baaghi was also aired on Hum Tv in which Saba Qamar played the role of Qandeel and the drama covered her village life, her journey from Fauzia to Qandeel and also unfolded many other truths about her murder.
Recently Soc Films' latest documentary, A Life Too Short was debuted at the 11th edition of DOC NYC, America's largest documentary festival. The documentary is directed by Safyah, co-directed by Saad and produced by Sharmeen Obaid-Chinoy.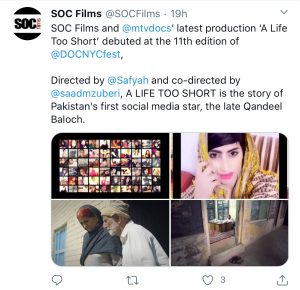 The documentary revolves around the life of Qandeel and how openly she used to talk about women and their rights in our country. It further shows how she pushed boundaries through her sensational social media presence and came forward to talk about controversial issues and how later on was murdered by her brother at the age of 26.