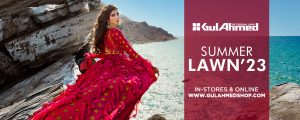 With expertise and fabric knowledge for nearly 70 years,GulAhmed has become renowned for their durable textiles and intricate patterns that are adored by people around Pakistan and the globe.
From craftsmen who work diligently to perfect each thread, weave and dye to master artisans who create unique designs, GulAhmed continues to bring beauty into our lives with every masterpiece created.
Established in 1953, GulAhmed Textile Mills is one of the oldest and most renowned textile companies in Pakistan. The brand has been bringing beautiful textiles and extraordinary designs that combine traditional aesthetics with modern trends – perfect for those looking for an outstanding new addition to their closet.
With their recent Lawn Collection 2023 launch, GulAhmed has yet again proven that they are not only designing geniuses but also providing top-notch quality.
It's all in the fabric
The most important factor of any garment is the fabric. An outfit or unstitched suit can have the most unique design on a stunning color scheme but if the fabric quality is not up-to mark, then is it worth buying? At GulAhmed, fabric quality is taken very seriously. Crafted with high-quality and durable threads, the fabric of each piece is never compromised. Whether you are picking a breathable lawn outfit for the summertime or a warm khaddar outfit for the colder months, the durability and quality of the fabric will not disappoint.
Color me happy
There is no doubt in saying that GulAhmed's color schemes are one of a kind! The color combinations range from neutral, comfortable ones to options that are more experimental. Although, with every launch GulAhmed comes out with timeless color combinations -the classic black and white, blue on blue or monochrome-, the brand also takes an unconventional route with lesser seen color combinations -parrot green and purple, blue with orange and lime and pink- too.
No number of washes can hinder the color or subtly lessen its vibrancy. The non-fade quality of the fabric ensures that your favorite eastern outfit always looks new as ever.