CokeFest 2020 : Pakistan's first digital music festival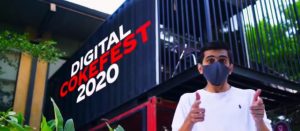 Since the start of this year everything has changed from our daily routine to work life and student life. Due to the corona virus  and lockdown every business has been affected badly.
As we move forward with handling the situation by following SOP's we have come to a point where we all agree that we can not keep our businesses on hold as we especially belong to a country which is still struggling to balance our economy and provide basic necessities to the needy.
This has been a year in which the digital industry has grown and have been in use the most. By working from home to taking online classes we have a new trend in our media industry of coming up with digital platforms.
Coca-Cola has taken this great initiative of coming up with a digital music festival (CokeFest 202) this time to keep everyone entertained yet safe.
Partnering with two of the country's top tech companies, Patari and Tapmad, Coca-Cola has put together the first-of-its-kind digital music festival to deliver a concert-going experience.  CokeFest 2020 will be a three day event starting from the 20th of November till the 22nd of November and will be free for all to attend.
All you have to do is to download and register on Patari mobile app and sign up for the event after which a code will be shared which will further be used on Tapmad's mobile app or website to enjoy the live performances virtually from any part of the world.
Yassir Pasha, the CEO of Tapmad said, "We already made progress on a conventional one-way communication, whereby we offer content to a user and they consume it in a passive way. However, in order to engage the users for a longer duration, we pursued a strategy to create a two-way communication in terms of content integration with the user."
The very talented talented 9-year-old Pakistani rapper Kaky Thou$and will go live on the show and Natasha Baig, Sirine Jahangir, Shamoon Ismail, SomeWhatSuper, Young Stunners, ESharp, Abdullah Siddiqui, XPolymer and last but not the least Ali Noor will also set the stage on fire with a surprise for all.
As food stalls have been a part of cokefest so this time FoodPanda, as the official food partner will be providing over 200,000 discount vouchers over the course of the festival.
A new music concert trend is on its way and we hope and wish all the team members the very best of luck and may this turn out to be a great event.