Cher coming to Pakistan to see off Kavaan 
Kavaan is a male asian elephant and in 1985, the Sri Lankan government gifted, Kavaan to Pakistan in an effort to strengthen bilateral relations between the two countries. Later it was joined by a mate named Saheli, who came from Bangladesh.
Saheli passed away in 2012 due to which, Kavaan started showing signs of lethargy and depression which led to aggression due to which his keepers to chain him.
All this situation and isolation turned kavaan into the 'loneliest elephant'. In 2015 a student Samar Khan launched an online petition highlighting the way kavaan was being treated and made a facebook page with the title of "Free Kavaan the elephant".
In July 2020 in a meeting at Islamabad Wildlife Management Board the government of Pakistan decided to send the elephant to Lek's sanctuary in Cambodia where he will be taken proper care by wildlife experts.
American singer, Cher who has been campaigning for Kaavan's release through her foundation Free The Wild will be coming to Islamabad on the 27th of November to see off Kavaan as he leaves for Cambodia. The singer might also sing a special song for the elephant.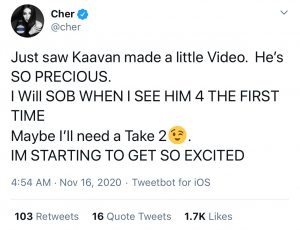 Kavaan will leave on the 29th of November with a vip protocol and we wish him a speedy recovery!