With Eid-ul-fitr having filled us in for the past three days, many of our favorite celebs also took to social media to post pictures of themselves all dressed up in their Eid outfits. And so we took this opportunity to compile a collection of celebs whose Eid look we just couldn't get over!
Here is a picture of Hira Mani keeping up the tradition of adding her own personalized touch to her saris, dressed in a blue and pink tie and die sari with a frilled up white blouse. 🍉
View this post on Instagram
Entertainment Reporter and Presenter Haroon Rashid also rocked his Eid look wearing this elegant blue Kurta with embroidered motifs, refreshing our news feeds with his style!💦
View this post on Instagram
Syra Shahroz channeling her inner style with this modern twist on a pastel pink sari.
View this post on Instagram
Atif Aslam giving all the men some major sherwani goals in this white sherwani embellished with light pink flowers and pearl buttons.🌸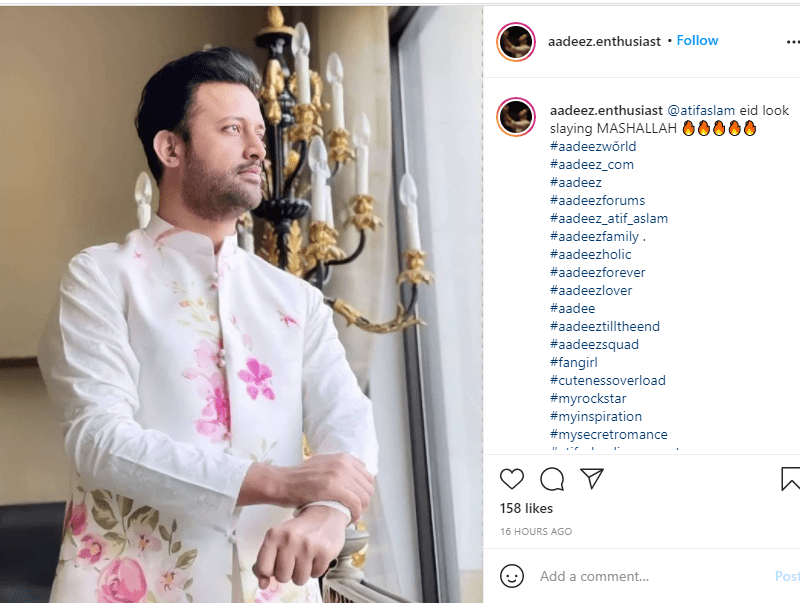 And Zarnish Khan whose dog is completing her Eid look for all of us, adding a million bucks to this picture.🐶
View this post on Instagram
And last but not the least Osman Khalid Butt aka Faazi looking fab after his makeover, in this purple saari, rocking some naagin moves…
View this post on Instagram
Just kidding, he wore this pastel green waistcoat on a white shalwar kameez and looked great in it.😁
View this post on Instagram
Let us know your opinion and whose Eid look you found the most interesting in the comments section below!