Body shaming a person for their losses is never acceptable in any way, and we wish that Pakistani audiences understood this. Cricket players in Pakistan have especially faced the brunt of insults and body shaming especially after a cricket match doesn't go according to expectations of their audience. Azam Khan was the latest target after PTV sports used their Facebook page to insult the cricket player's figure in a caption: "khata hai leikin khelta nahi"
Celebrities like Faysal Quraishi and Haroon Shahid were quick to reach out on social media to send solidarity to the cricket player while also condemning PTV sports for publicly degrading him in this manner. Faysal Quraishi posted a screenshot of the Facebook post and in the caption he had written: "Shame on you @ptvsportspk"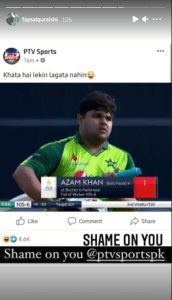 Singer and actor Haroon Shahid revealed that he had initially thought that this was a fake page mocking Azam Khan, but he was shocked to find out that this was the official Facebook page of PTV sports that was body shaming the cricket player:
"At first I thought this was some fake page running under the name of PTV sports, to my surprise it wasn't! Is this how we are going to ridicule our players?"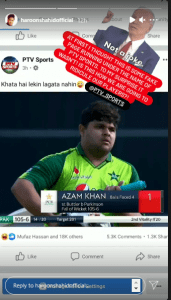 Faizan Sheikh shared a screenshot of his comment underneath the Facebook post where he had condemned the page for insulting a cricket player who was representing the country at an international level:
"shame on you PTV sports – official page for making fun of national players! body shaming a player who is representing your country on the highest level…NO WONDER your quality has gone down the drain."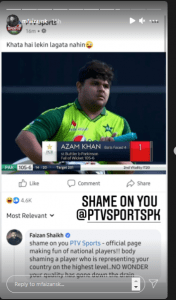 We must remember that cricket players like anyone else are human beings, and have always been subjected to the worst form of insults and degrading comments from Pakistani audiences after they have lost matches. The vicious backlash Sarfaraz Ahmed received after losing a match to India personifies this as a video trending on the internet showed him being harassed and called "mota" by a fan at a mall in England where he was with his son.
A shameful act by a Pakistani fan with captain Sarfaraz Ahmed, this is how we treat our National Heros. Highly condemnable!! 😡 pic.twitter.com/WzAj0RaFI7

— Syed Raza Mehdi (@SyedRezaMehdi) June 21, 2019
Body shaming a cricket player who has been representing our country at an international level doesn't fix our losses but only reveals how shallow minded our audiences have become to shame someone over their appearance.