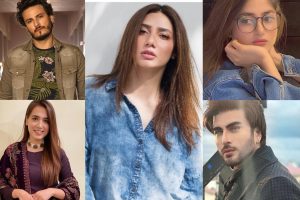 Celebrities react to a woman getting assaulted by 300-400 men at Minar-e-Pakistan on the 14th of August. The incident took place when a girl along with her friends was making a TikTok video on the Independence Day at Minar-e-Pakistan, when hordes of men climbed a fence and attacked her.
The girl was assaulted by these cruel men who ripped off her clothes and kept throwing her in the air. The girl was crying  for help but no one came forward and many were seen making a video. The video went viral on all social media platforms last night and the whole nation is shocked, deeply saddened and furious at those 400 men and the government of Pakistan and want justice to be served!
View this post on Instagram
View this post on Instagram
View this post on Instagram
An FIR has been registered and Punjab Chief Minister Usman Buzdar has taken notice of the incident and has sought a report from the CCPO Lahore.
The assault of a young women by a mob at #minarepakistan should shame every Pakistani. It speaks to a rot in our society. Those responsible must be brought to justice. The women of Pakistan feel insecure and it is all our responsibility to ensure safety and equal rights to all.

— BilawalBhuttoZardari (@BBhuttoZardari) August 18, 2021
Just spoken to the PM Imran Khan regarding Minare Pakistan Incident, Imran Khan is sad and angry over the Lahore incident. Ayesha will get justice soon In Sha Allah#MinarePakistan

— Aamir Liaquat Husain (@AamirLiaquat) August 18, 2021
I can't believe what I just saw!!! I've said it before and I will say it again – make an example out of these men!
#MinarePakistan

— Mahira Khan (@TheMahiraKhan) August 17, 2021
Damn I'm sorry.. I keep forgetting – it was Her fault!! Poor 400 men.. they couldn't help it. #MinarePakistan

— Mahira Khan (@TheMahiraKhan) August 17, 2021
Another day, another incident, another moment we find ourselves collectively hanging our heads in shame.

Action, not just condemnation.
Bring the perpetrators to justice.

— Osman Khalid Butt (@aClockworkObi) August 17, 2021
They didn't care for sanctity of another person's body, they didn't care about sanctity of #MinarePakistan, they didn't care about sanctity of #Muharram and they didn't care that stripping a women carries the death penalty. Laws alone can't fix our moral and social degenaration.

— M. Jibran Nasir 🇵🇸 (@MJibranNasir) August 17, 2021
MoHR is in touch with Punjab authorities to ensure strict action ag perpetrators of the condemnable attack on a woman in Greater Iqbal Park Lahore. Arrests made, FIRs done. MoHR following up. But we need to try & change such violent behavioral patterns in our ppl. #lahoreincident

— Shireen Mazari (@ShireenMazari1) August 18, 2021
Disgusted, petrified, ashamed and speechless.. Quaid-e-Azam! We are sorry. #minarepakistan .

— Imran Abbas (@ImranAbbas) August 18, 2021
This whole drama of why was she there and what was she wearing is getting really old and noone is buying it anymore.
Sahi se eik hi dafa bol do, we dont want to do anything to protect women and we want to keep stripping you of dignity because we can.

— Mansha Pasha (@manshapasha) August 18, 2021
The girl screams for help as she's groped by hundreds of men. There is Azaan going on in the background.

I'm finding it hard to wrap my head around that scenario. #minarepakistan

— Shahveer Jafry (@shahveerjaay) August 17, 2021