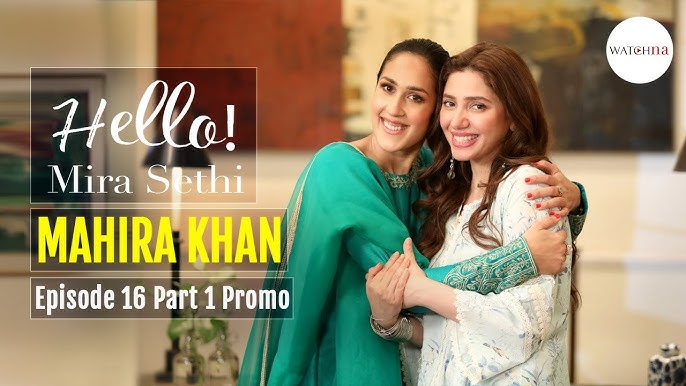 Queen of hearts Mahirah Khan recently made an appearance on Mira Sethi's talk show, and swept us all away with her honest and brave insights on women, the upcoming Aurat March, and stardom and what all it entails.
Looking glamorous in emerald green, Mira started off by asking Mahirah about the latter's content creation site 'Mashion', which flaunts the tagline 'Where women come first'. Upon being asked the meaning of this tagline, Mahirah replied saying that the meaning is self-explanatory; the site is a place where the first and most important thing that is talked about is women.
Speaking on the issue of censorship in the case of women-related content, Mahirah said that a lot of the time we have to stop ourselves from publishing content such as pictures  since much is being said on the subject of women in Pakistan, but there are many, many things that cannot be talked about or discussed openly, and therefore we feel compelled to stop ourselves from saying or publishing them; "Can we talk about periods?", she asked "Can we openly talk about divorce?" and the rights given to women by Islam, she questioned.
Mahirah, who participates and even speaks at the Aurat March every year explained that through participating what she's actually trying to say to her admirers and fans is that "If you like me, and if you think what I say means something…this is also what I believe in, this is why I'm here."
She attributed the confusion and the controversy around the March and related slogan 'Mera Jism Meri Marzi', to the 'misinformation' being spread around social media by all the big voices that get to have the biggest say, however misinformed their voices may be then. Adding that Aurat March doesn't mean a place where women take off their clothes and get together !!!!
Mira also asked how Mahirah Khan has managed to retain her kindness and soft-nature despite securing so much success and fame in the media business where the norm for actresses has always been to show 'nakhrey', have a certain type of attitude, ego and 'enigma' around them so as to not be taken for granted. To this Mahirah replied saying that she finds it "archaic, ridiculous and regressive", to believe that if she's a star then she has to behave in that manner. "Yeh kahan likha hai? Yeh kaun kehta hai?" she said. Adding that "log kehte hain apka enigma marr jaata hai. Mujhe toh aisa lagta hai keh apka enigma tab marta hai jab aap badtameezi karte hain."
We can't stop agreeing with Mahirah and she has melted our heart with her honesty, kindness and warmth. If you too want to watch the interview then scroll down.