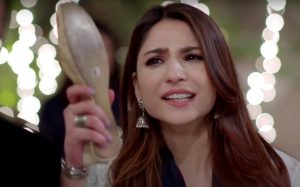 Bakht from 'Shehnai' is the kind of character we need to see more in our dramas. The character of Bakht is being played by Ramsha Khan who is so far doing complete justice to her character. Shehnai is being aired on Ary Digital with Ramsha Khan and Affan Waheed in lead roles and Samina Ahmed, Behroze Sabzwari, Javed Sheikh, Zainab Qayyum, Hammad Shoaib and many other brilliant actors are also a part of the drama.
Shehnai is not a typical drama and has been a breath of fresh air after a long time. The drama has a big cast and every character stands out with their performance and the best part about the script of this drama is that every character, staying in their element brings a smile to our face and helps to grab the attention of the viewers.
Ramsha and Affan are known for their actings skills and are sharing the screen for the very first time. As they drama has just aired five episodes we can say that we see a great on-screen chemistry between the two.
We appreciate the fact that the director has again shown a strong girl who has the right amount of strength and control over her emotions and knows how move on with her life. Bakht (Ramshah khan) is playing the character of a strong, witty girl who knows how to take a stand for herself and the way she confronted Hunain (Hammad Shoaib) in the drama made everyone remember Geet's (Kareena Kapoor) character from Jab We Met.
With these five episodes, Ramsha Khan has been able to glue the audience to their tv screens and wait to see what the drama has more to unfold. Are you guys excited for the next episode? We surely are!!