Being a celebrity can mean you have access to a lot of unthinkable privileges that common people can never think of, but it also comes with the painful reminder that their right to privacy doesn't imply because they are considered public figures. This week, rumors broke out that the power couple Sajal Aly and Ahad Raza Mir are about to get divorced, and it has set off all sorts of speculations from news sources about whether it is true or not. Especially on social media, Ahad and Sajal began trending online as fans began speculating what could have led a power couple like them to part ways, even to the extent the sides were formed out as people began making assumptions about whose fault it could be that a divorce had to happen.
In the midst of all of this, we must remember that like all of us, Sajal and Ahad are human beings who can be deeply affected by such a monumental change in their lives. Just like the rest of us, they also have friends and family members who could also become the target of consistently provoking questions about their personal life in a time when they deserve to deal with it privately. Rather than making assumptions and trying to pinpoint the blame on one party by ridiculous claims that aren't proven to be true, it's necessary that the media and fans of both Sajal and Ahad understand that it's necessary to give the couple their privacy and allow them to deal with this on their own.
Actor Azfal Rehman echoed this statement when he used his Instagram stories to remind his audience that celebrities, like the rest of us, are also human beings, and deserve to be treated with compassion and kindness rather than spreading false stories about their personal lives. He had written:
"Divorce is a very difficult decision to take especially when the world knows about you and your spouse….we must show compassion and grant privacy to such couples..kindly be understanding. And don't bombard their inboxes with such hurtful questions. Act responsibly. thx"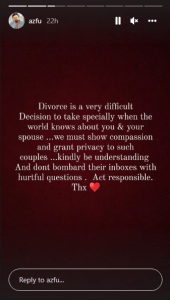 So please remember, there are many important things going on around the world, and the divorce of a celebrity is not something that should be ruthlessly highlighted this way. Let's understand that we are not aware of the reality of the situation and remember that Sajal and Ahad are both individuals who deserve privacy at this time.