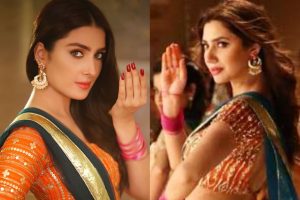 Ayeza Khan pays tribute to the Super Star of our industry, Mahira Khan on completing ten years in the entertainment industry. Ayeza re-created the look of 'Noori' from Mahira's movie Super Star in her upcoming drama, Lapataa in which she is playing the character of a tiktoker.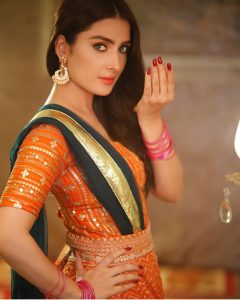 She took on her official Instagram account and posted her picture all glammed up looking exactly like 'Noori' and wrote, "Can't believe it's been ten years for you, Mahira, and you're still on top. That's because you have entertained us on such a high level with your art, project after project. From your great films to your blockbuster dramas, you have made us all proud, representing us internationally and we are quite fortunate to have you."
She further added, "For this reason, I wanted to pay my respect to you, in my upcoming project, portraying also you amongst some of the greatest legends. To me, you are not only a friend but an idol, a living legend, who I have looked up to from the day we first met.
Thank you for everything. Congratulations on all these years and I wish you all the best for the future. You are and will always be the our heroine!"
Mahira has been gracing our screens with her block buster dramas and movies. She also made her debut in bollywood opposite Shahrukh Khan in the movie Raees and has represented Pakistan on prestigious international platforms like Cannes and Loreal Paris Fashion Week.
Many celebrities have been congratulating Mahira for completing ten years in the industry and for being an inspiration to many. Many fans posted clips from her block buster drama Humsafar and sent heart-warming messages to Mahira.
We wish Mahira all the very best for all her future projects and we hope to see her on our screen soon!