Leading Pakistani actress Ayeza Khan now has a way for all of us to earn money through the disposal of plastic. Not only this, the plastic we dispose off will also be recycled for re-use. What an ingenious idea to contribute towards less pollution for our planet Earth, reduce wastage and earn money!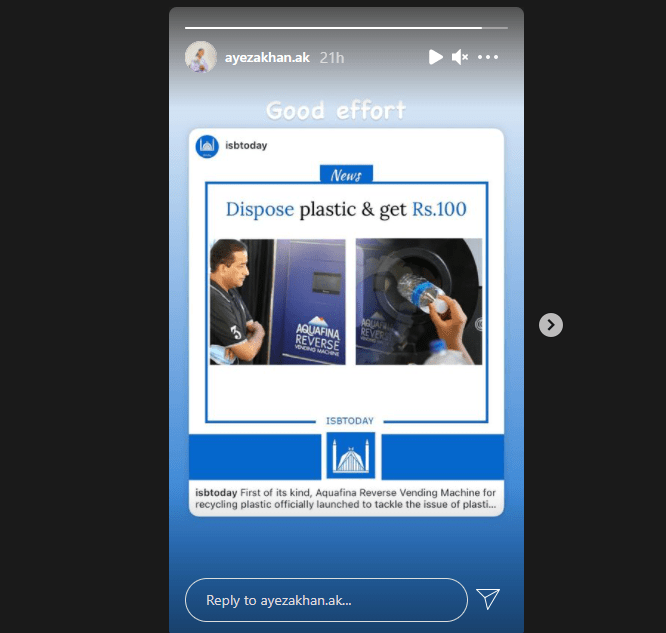 Earlier today, the 'Chupke Chupke' actress shared about this mechanism to 'Dispose plastic & get Rs. 100' in an Instagram story.
The post is about Pakistan's first reverse vending machine (RVM) for plastics, introduced by Aquafina and now installed in Islamabad. The vending machine enables people to recycle on the move. Plastic bottles of any brand can be used in the machine. Consumers just have to press the start button on a touch screen and the RVM will open up a slot to receive the plastic bottle. Once deposited, the RVM compresses the bottle so that it is ready for the next steps of recycling.
The RVM is part of the government's strategy to tackling the issue of plastic waste and is fixed by PepsiCo. Prime Minister's Special Assistant on Climate Change,  Malik Amin Aslam also shared about this initiative on his official Twitter account.
SAPM inaugurates the very first reverse vending machine for plastic bottles in Pakistan. Talking to media, he said that technology can truly boost the agenda of dealing with plastic waste as a part of Prime Minister Imran Khan's Clean Green Pakistan programme. pic.twitter.com/bXmKGg0FP6

— Ministry of Climate Change, Govt of Pakistan (@ClimateChangePK) May 29, 2021
Like Ayeza Khan, we are extremely excited about this new and innovative way to tackle the problem of plastic waste and pollution. What are your thoughts on this new development? Let us know in the comments section below.