Atiqa Odho and Yasir Hussain lend support to veteran actress, Bushra Ansari after  trolls age-shame her for dancing on a wedding ceremony. A video clip of Bushra Ansari went viral from a recent wedding (of a family member of Hum Tv)  where all celebrities were seen rejoicing and people starting trolling her for dancing and enjoying at this age and after losing her sister.
Bushra Ansari clapped back at social media trolls for criticizing her age and said," I was in a deep grief from last 3 months and that loss is going to be in our hearts till our last breathe. Two days ago it was a family dholki and all my friends were there insisting me to get out of the stress and my sadness. Got up for two minutes with my son Azan to show my participation in their happiness. Sad to see people's reaction as they just want to see us unhappy because we are famous and specially when somebody is over a certain age, how pathetic."
She further added, "I am telling you this is the best age to enjoy life when you are done with all your duties and Alhamdullillah I have achieved so much in this age I don't have any regrets if I am over 60 so this stop this cheap weapon of telling elders that you are old and you do not have any right to be happy,why not? I don't understand why young kids feel insecure of older people and I'm not answerable to any faceless trollers  because they never leave any one even after wearing hijab so stop hurting people it's also not allowed in Islam."
Yasir Hussain took on his official Instagram account and asked Bushra Ansari to do whatever she feels like doing as we all have a free will. He further added that she is the legend of our country and she should not pay attention to any negative comments or remarks.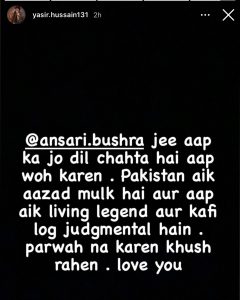 Atiqa Odho also posted a few beautiful pictures with Bushra Ansari and wrote, " I stand by Bushra Ansari. She is a legend of our country and has served us well. No one has the right to tell her how to live or behave. She is not a criminal so stop treating her as if she's broken any laws. Living life and bringing joy to people is not a crime, its a service. Those who don't respect their elders just expose their own poor upbringing. Bushra is a friend and inspires us fellow actors constantly with her talent, grace and charm. Faceless and nameless people should be ashamed of themselves for attacking an #Icon of our industry in such a pathetic manner. Grow up! Carry on smiling Bushra Ansari, we are with you as always."