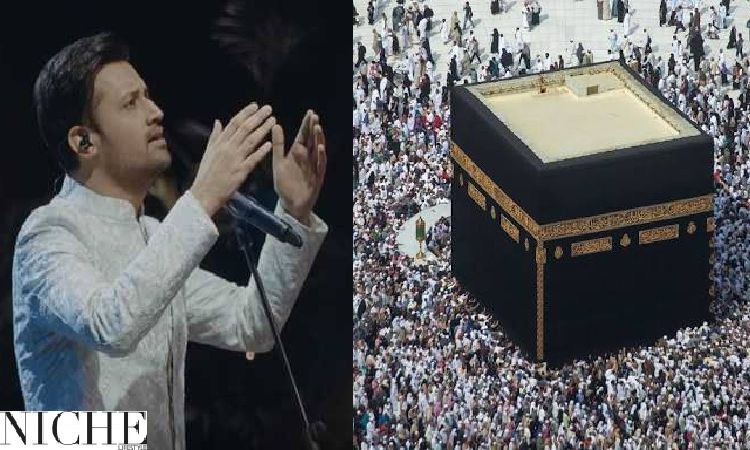 On a live talkshow, king of melody Atif Aslam revealed what his biggest wish is, instantly sending fans and followers all over social media in a frenzy. The singer revealed that his biggest wish till date is to have the honour of saying the Azaan in Khana Kaaba.
People are sending love and support to the Tajdar-e-Haram star, praying that Allah fulfills his beautiful wish soon. The singer is trending on Twitter and here's what people are saying:
Atif Aslam is a Gem ❤ Winning the hearts since forever 😍🔥
May he lives his Dream of giving Azaan at Khana Kaaba.
What a sight it would be, Even the thought is giving me Goosebumps😍✨💞#AtifAslam pic.twitter.com/7qHypjVuxw

— Wasim Akbar (@WasimRahimoon1) June 11, 2020
#AtifAslam shared that his biggest dream is to give Aza'an in Masjid-al-Haram. 🕋
May Allah Fulfil his Pious Dream Amen. ❤️😍 pic.twitter.com/1mMiG09Kk0

— Muhammad Momin Amer (@MMominAmer) June 11, 2020
Singer Atif Aslam's @itsaadee biggest wish is to say Azaan at Kaaba Sharif we all pray that his wish comes true as soon as possible Ameen#AtifAslam is known as "Fakr-e-Pakistan. His soulfull voice always obessed you. May AllahAlmighty give him more successes. Ameen✌.#AtifAslam pic.twitter.com/m94rBy59nc

— Saith Hunfa… (@SaithHunfa) June 11, 2020
'Azaan at kaaba Sharif' This is not only your wish @itsaadee but also my dream ❤️
May your wish comes true !
Ameen#AtifAslam https://t.co/cVgTX18de0

— Misba_Aadeez (@iam_meoww_) June 11, 2020
#AtifAslam let me tell u, u have a beautiful voice but when u read azaan and Allahs 99 names it just went to another level, it became mesmerzing intoxicating bro.

Masha Allah…

Your wish of reading azaan in Kaaba will In sha Allah come true my friend

May Allah guide you bro

— Aatif (@WeRAteM) June 11, 2020
"Atif Aslam" fvrt singer ever due to his vocal cord contractions! Masha Allah his unique voice didn't get his songs old!
May your wish of giving Azaan on Holy Kaaba come true! Best wishes for you🎗#AtifAslam

— Hiraaay. (@Nootyourgirl) June 11, 2020
May ALLAH make way for Atif for Azaan in Kabbah.#AtifAslam

— Samar Zulfikar (@iam_samarbajwa) June 11, 2020
Atif Aslam's biggest dream is to give Azaan in khana e Ka'aba….
Let me just go and cry in the corner 😪😭
Beshak unpe Allah ka khaas Karam hai❤❤❤#AtifAslam

— A Y Ś E🌸 (@Ayeshiyyy) June 10, 2020
I hope that atif Aslam wish to say azaan in Khana Kaba will fulfil soon#AtifAslam

— Fazal Medico (@FazalMedico) June 11, 2020
Tajdar-e-Haram , wohi khuda hy , Asma-ul-Husna nd now his very Virtuous desire of Azaan in Kabba. May Allah fulfil his wish. My sixth sense says @itsaadee will be new JJ. Big change ahead in his life.
Goodluck bro !!! #AtifAslam

— SaiFullah MushTaQ🇵🇰 (@Saifi_236) June 10, 2020
Atif Aslam's biggest dream is to give Azaan in khana e Ka'aba 🕋🕋
Allah Pak #AtifAslam ka khawb pura kar ha Ameen ❤️🕋 pic.twitter.com/TZhN5TC0cy

— Syed Ahsan Bukhari (@Syedahs44718034) June 11, 2020
We at Niche Lifestyle also pray that may Atif Aslam get the chance to live his beautiful dream of giving the Azaan in Khana Kaaba soon! Not only will be a beautiful moment for the nation but also a proud one as it will bring immense honour to Pakistan.
Atif Aslam has recently been garnering love and support for delivering powerful spiritual performances inclusive of the recitation of Azaan and 99 Names of Allah , successfully mesmerizing the audience with his impactful voice. His soulful performances, Tajdar-e-Haram and Wohi Khuda Hai remain a favourite till date.
Let us know which Atif Aslam performance is your favourite by dropping a comment on our Instagram page. Until next time!