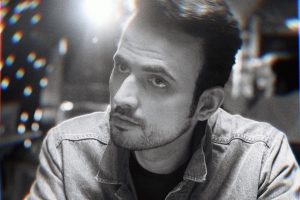 In an interview with BBC Urdu, Usman Mukhtar opens up about his character in drama serial Hum Kaha Kay Sachay Thay. When the host asked him about his character, Usman said that when he was offered the script he read the summary of the novel and after doing some research on the novel he figured out that Aswad's character was very toxic.
He further added, " When I was offered the script, I was a bit reluctant as there were a few things attached to the character which I did not want to do and I am thankful to the director that they agreed with me and toned down the character a bit for me."
Usman also highlighted the problem of trusting unverified information coming to us from our friends and family members. Through his character he wants people to understand how one should not have a blind trust on everyone around them.
Hum Kaha Kay Sachay Thay, the most anticipated drama of the year,(airing on Hum Tv) has grabbed everyone's attention with its intruging story-line and instense scenes. The drama is an adaptation of Umera Ahmed's novel, directed by Farooq Rind and produced by Nina Kashif and Momina Duraid.
Let us know in the comments section on our Instagram page about your thoughts on this!
Here is the link to the interview:
View this post on Instagram