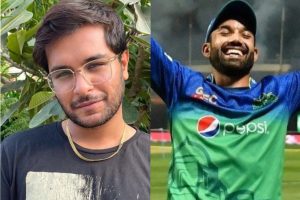 Asim azhar comes to Multan Sultans' defence, saying that this team and city deserved to be the champions. Multan Sultans won Pakistan Super League 6 (PSL 6) after defeating Peshawar Zalmi by 47 runs last night and #Champions is trending on Twitter, with Multan Sultans fans celebrating their victory with some love filled messages and some hilarious memes.
The Sultans batted first and scored 206/7. Imran Tahir claimed three wickets in the 17th over of the innings to end the game for Zalmi. As the Sultans commemorated their maiden triumph, Zalmi concluded with 159/9 in 20 overs.
Asim Azhar took to his Twitter account and congratulated Muhammad Rizwan for their victory in PSL6 to which a fan replied by saying that Multan is the worst city and did not deserve it. Asim came to Multan's defence and said, "Tameez se bhai! If anybody deserved it, it was this team & city. From losing 4 games in the first leg to tonight. I'm a karachi supporter but couldn't be more happy for the 'smallest' city (with the biggest heart) of the tournament to be the champions of Pakistan!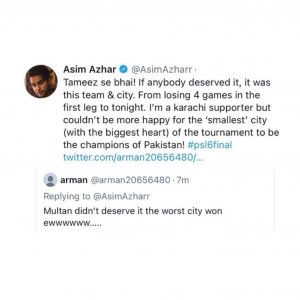 Multan Sultans performed with incredible competence and it was a well-deserved triumph. The team made it to the final after losing a couple of games, and then lifted the trophy as champions!!
We would like to congratulate Multan Sultans for their great victory and becoming the champions of PSL6!