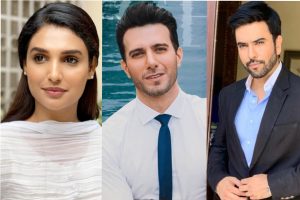 Amna Ilyas, Emmad Irfani and Junaid Khan have paired up for an upcoming drama on Express Tv, produced by Big Bang Entertainment. Amna is making a come-back to the television screen after a long time and was last seen in movie, "Baji".
Emmad and Junaid have been gracing our screens with their brilliant and versatile acting skills. Emmad gained a-lot of fame and appreciation for his drama serial, Jalan which was trending all over social media.
Amna shared a teaser of the drama where she was seen all dressed up as a bride but somehow could not get married. Aiza Awan will be playing the role of Amna's sister and from the trailers we assume a love triangle between Aiza, Junaid and Emmad.
View this post on Instagram
The trailers show how different both sisters Amna and Aiza are from each other. Aiza will be playing the character of a girl who has a very materialistic approach and is looking out to get married to someone very rich. Though the title of the drama is not revealed, according to sources it will be airing from next month on Express Tv. Are you guys excited for this drama?!