Since opening her design house in 2015, renowned Karachi-based fashion designer Amna Arshad has been creating ripples in Pakistan's fashion industry. Amna Arshad has developed a brand that appeals to modern women with an inclination to modernising vintage fashions and a distinctive take on design aesthetics. Her brand has grown to be known for elegant designs including prêt, semi-formals, wedding attire, and bridals that are created using high-end fabrics and elaborate artistic techniques.
With her most recent collection, ELU Eid Edit, Amna Arshadhas once again captured the attention of fashion enthusiasts.  Let's discover more about Amna Arshad's enchanting world of avant-garde creations infused with alluring traditional elements.
Traditional Meets Modern:
Amna Arshad's sense of style focuses on highlighting the feminine silhouette while keeping a certain level of sophistication. She has successfully updated traditional styles by giving them a distinctive twist, developing a unique aesthetic. Arshad's dedication to fine craftsmanship and attention to detail is evident in every design she creates. Wearable works of art are created by fusing unusual materials with antique artistic processes, boosting the next wave of master craftsmanship.Having received a formal education in law, Amna entered the fashion sector because she was passionate about it it and saw a bright future for Pakistan's textile industry. She has created unforgettable contemporary designs for today's women by successfully bringing old-world classics with a distinctive and modern twist.
The brand's dedication to producing timeless pieces that occupy a special place in every woman's wardrobe is reflected in its tagline, "Something to have, something to hold."
Amna Arshad Atelier: A Luxurious Shopping Experience:
Amna Arshad's dedication to provide the highest level of class and elegance goes beyond her creations. She has turned Karachi into a sanctuary for fashion enthusiasts with the establishment of her flagship atelier. Customers are welcomed into an elegant environment where they can see the artistry and craftsmanship firsthand by the exquisitely constructed area. The atelier provides a wide selection of the most up-to-date bridal and festive wear collections, as well as elegant prêt-à-porter options, ensuring a seamless shopping experience for every person on every occasion.
ELU EID EDIT: Simply Magical
Amna Arshad's ELU Eid Edit displays the epitome of splendor, sophistication, and simplicity. The collection perfectly modifies traditional wedding ensembles into a more fashionable, youthful, and modern look. Each design is an ideal combination of fabric and style, with ruffled dupattas, cutwork backs, and tassels. Organza, net, and tissue elements with exquisite designs are used in the collection as a play on fabric and flair. A gorgeous collection that may be worn as bridals or formals is made possible by complementing color schemes, regal embellishments, and meticulously handcrafted accents. To suit different tastes, ELU EID Edit offers a wide variety, withtraditional jaal work on pure raw silk.
Let's check out some of our favories and the most striking ensembles from the ELU Eid Edit:
Riley: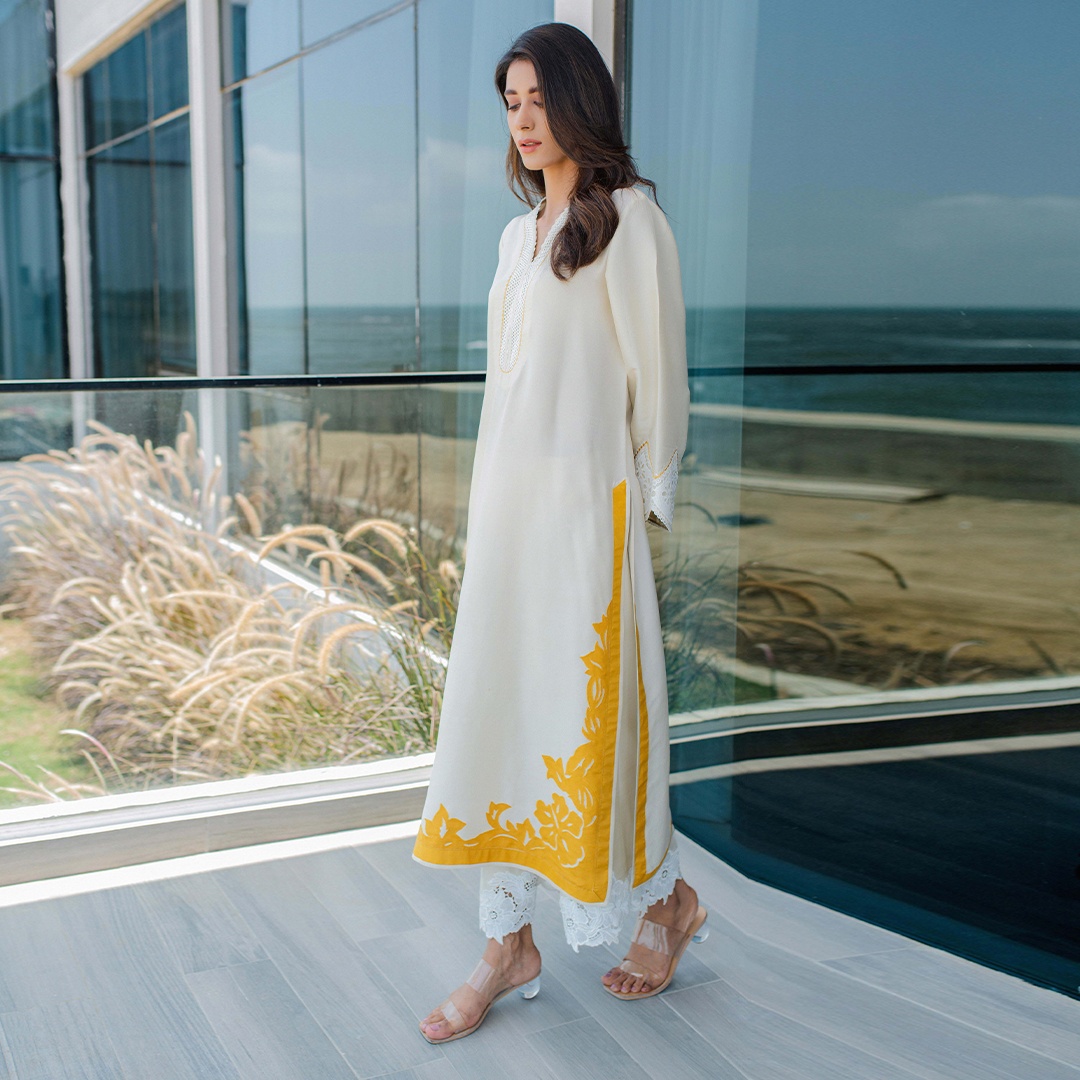 This outfit has a daaman and a traditional ivory pure raw silk shirt with a beautiful mustard appliqué. The exquisite finishing touch is provided by the carefully chosen appliquéd chikansleeves with simple stitching.
Coco:
Coco is a pure raw silk ocean blue silhouette with fully detailed aari work that exudes grandeur and grace. Pure raw silk trousers and the long, baggy shirt with the front open are the finishing touches to the look. Combined with pearl studs and a bold bag, it makes a stunning outfit.
Jona:
The daaman and sleeves of this zaituni olive green pure raw silk shirt have custom geometric embroidery in a classic jaal work style. The traditional appearance is given volume and a contemporary edge by the pleated shalwar. The tissue silk ombredupatta with laces is a striking piece that beautifully completes the outfit.
Eve:
Eve is the ideal option for those looking for a relaxed look. The chestnut shirt is made of lightweight kora cotton and has appliquéd panels, as well as colorful, earthy embroidery on the neckline. The pea green pure raw silk trousers and the completely embellished organza dupatta with cut-out embellishments effortlessly hold the entire outfit.
Zuma:
This classic mix of timeless black and white on cotton never goes out of style, and Zuma is exactly that evergreen outfit which you can never have enough of. Zuma is the ideal Eiddress because of the exquisite heavy ivory resham and anchor embroidery on the appliquéd cutwork neckline and the ethnic embroidery on the sleeves.
Every collection Amna Arshad creates is exquisite, but the ELU Eid Edit is an ode to her unmatched talent and commitment to reshaping Pakistani fashion. Her distinctive sense of design appeals to modern women by providing them with elegant looks for a variety of moments. The launch of her most recent line, ELU – Eid Edit, demonstrates her talent for reinventing bridal attire in modern, fashionable ways. Amna Arshad offers people an extravagant shopping experience in her chic new studio in Karachi, where they can see the creativity and caliber of her creations up close.