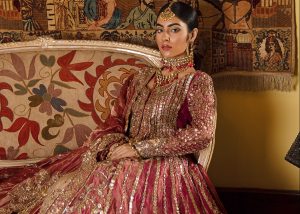 Ammara Khan's latest campaign 'A ROYAL DUET' is a celebration of rich traditions and cultural heritage, centring and focusing on the beautiful strong Asian women known as the Nawabzaadis. The campaign depicts the aura of two Nawabzaadis who are seemingly clad in traditional wedding attires, awaiting news of their suitors who are on their way to meet them for the very first time!
The Nawabzadis are women of substance brought up to be equals rooting from a dignified school of thought. These women are deeply proud of their roots and cultural heritage. Their clothes and their home are a true manifestation of what their true persona is.
The campaign 'A ROYAL DUET' has been shot in a splendid colonial era mansion to not only accentuate the beauty and glamour of the Nawabzaadis and their ensembles but also to depict the past lives of the aristocrats of the respective region. With the wait in her eyes, the strength in her smile and the faith in her heart, the Nawabzaadi can be seen sitting poised, waiting for the arrival of the right suitor…
A ROYAL DUET features AMMARA KHAN's perspective on sustainability in fashion through the preservation of age old techniques and craftsmanship in developing bridal couture. The designer revealed, " A ROYAL DUET is very close to me. Several months in the making. We had to get everything right. From the amazing models, to the amazing stylist and photographers. Every one worked with so much passion. And I am very happy with the results. So rich, so glamorous, so powerful. All about celebrating our unique craftsmanship. To take a moment to appreciate that embracing future is not about giving up our past. Our beautiful past, where we come from and the richness of our heritage."
Each and every outfit has been meticulously handcrafted with the provision of different techniques. Staying true to AMMARA KHAN's theme of sustainability, some of the designs have been improvised from previous collections to prove that AMMARA KHAN Bridal couture is timeless and will leave every one breathless whenever adorned.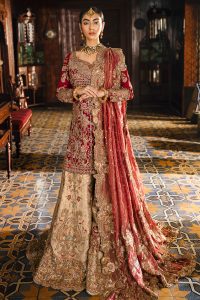 This piece from the collection is created in hues of ivory gold, deep ruby red and oxidized rust with real rice pearls strewn meticulously along with 'Bareek Dapka' and sequins. The lehnga is embroidered with beautiful flora and fauna with fine craftsmanship using techniques of 'Gota' and 'Zardozi' making it a magical piece of art.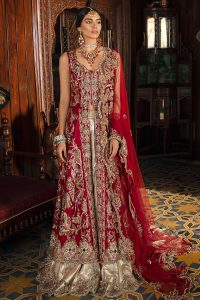 This regal deep red bridal outfit with a silvery gold trailing sharara oozes with old-world charm. Cut into a jacket-peshwas silhouette with a longer flowy back, this piece is finely embellished using 'dapka' and raw uncut colored stones in combination with pearl and pops of 'Resham' thread. 'Zardozi', 'Vasli' and French knots are the techniques of embroidery AMMARA KHAN has used to craft this timeless beauty.
The two-legged sharara is made of pure metallic soft lamé with a beautifully hand embroidered scalloped hemline. A delicate tulle dupatta with gentle motifs inspired by the art-nouveau period adds the final finishing touch to this masterpiece, which will be cherished for generations to come.
The stunning mix of colors and intricately hand embellishments set the theme for this bridal dress. A soft aquamarine, a darker sea green and ivory with lovely pops of peach and pink resham come together in harmony to create the perfect color palette. Embroidered with sequins, 'Zardozi' and tiny crystals, this piece has beautiful floral motifs and delicate vines and lilies. A beautiful brocade lehnga is finished off with a scalloped lace border that sparkles beautifully. Lotus flowers, representative of tranquility are scattered all over the base adding certain serenity to this piece making it an ideal choice for a classic bride as a reception look or even for an engagement celebration.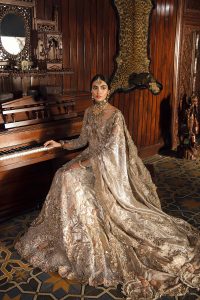 This beautifully crafted masterpiece in the hues of silvery peach lamé is blended to perfection with a rich silver-gold lehnga embroidered by hand with a gorgeous pattern of lilies and leaves. A 'resham' cutwork mesh is hand crafted on the border of the stunning lehnga with tiny pearls intertwined amidst the netting. The shirt, worked in 'Vasli' and delicate 'Dapka' work with hints of 'Mukesh' is so dainty that each leaf shines in all its glory, as if glistening with dew drops in the early rays of sunshine. The silk tissue dupatta is simply enchanting. Strips of handmade 'mukesh', bows and fine ribbons further add luster to the surface with leaves and flowers embroidered to perfection in meticulous corners with 'resham' and pearls. This one definitely makes for a classic heirloom piece which will age beautifully and be enjoyed for the years to come.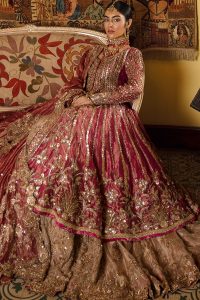 A deep raspberry silk tissue is the base for this enchanting bridal attire. The gorgeous 'gota' embroidery fully adorns this beautiful piece. A mosaic of 'gota tukri' is meticulously crafted to create a stunning effect on this regal attire. The gilded gold metallic silk tissue lehnga with a delicate pattern embroidered all over with the finest 'Zardozi' embellishment is bound to leave no heads unturned.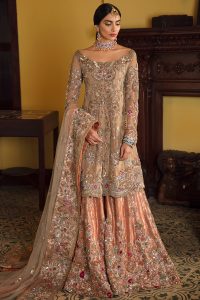 A gilded gold bridal gown, with exemplary craftsmanship and beautiful tones of peach and burnt coral. This piece is truly magnificent and has the most stunning and detailed craftsmanship. 'Pitta hua Tilla', 'Zardozi', sequins, French knots, and crystals come together to to create this masterpiece. The seamless blending of color tones in this dress sets it apart. The classic 'sharara' silhouette comes with a flared silk tissue shirt, with sheer tulle sleeves and the rich, pure silk brocade of the lehnga adds a regal flavor to which is a piece that will be cherished to pass on to future generations as a coveted heirloom.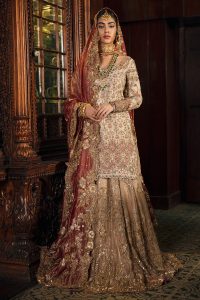 Ivory rose gold and oxidized rust forms the palette of this stunning classic bridal attire. Worked in very fine, purely hand-crafted 'Zardozi' embellishment with hints of crystal, 'Gota' and 'Resham', this piece is perfect for those looking for an aura of 'times gone by' of their special day.. May it be a Nikah ceremony or a wedding day festivity; this piece is set to be a glorious statement for the 'timeless' bride of the 21st century. A bride who is tied closely to tradition, but who moves gracefully into the modern world of today carrying all the splendor of a rich and wondrous cultural heritage.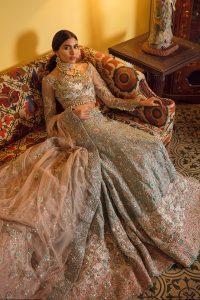 Another splendid piece from the collection- this time featuring a clear sky blue choli paired with a gorgeous aquamarine hue with tinges of a soft, fresh powdery pink. Flowers and leaves and dainty swirls interplay in harmony to create a unique and ultra-feminine look. The dupatta is in soft tulle and has a gorgeous border all around with delicate sprinkling of crystals and pearls alongside a rich long trail which adds an air of majesty to the lehnga, completing this look to pure perfection.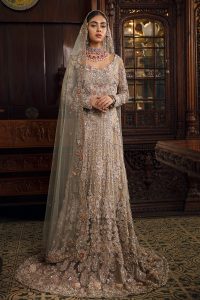 This stunning gown in nude peach tones is truly fit for a queen. Liner motifs embroidered on a lace fabric base and encrusted with pearls and sequins gives a slender and elongating silhouette when worn. The heavily embellished sleeves with thread work and sequins add to the regality of this beautiful piece which can be worn as a gown with a plain tulle veil or with our gorgeous dupatta in a soft mint. A peach applique and little colored handmade flowers make this piece feminine and delicate -perfect for a reception or engagement bride!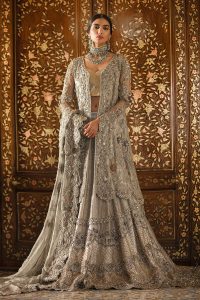 This piece is called 'The Jewel' at the atelier. It is a work of art created with a marriage of thousands and thousands of luminous 'Swarovski' crystals and the finest of craftsmanship using an array of techniques, purely handmade. A beautiful pop of color has been added to the ensemble by tearing bits of pure silk tissue and creating three dimensional florets with touches of jewels. The net sleeves with meticulous embroidery lend an air of delicacy to this heavily embellished and majestic piece. The dupatta in a silk tissue is covered in imagery derived from the wings of a butterfly along with delicate patterns of jewelry. Purely magical, this ensemble is fit for a modern princess!