The Indian bridal week takes off with ace designer Amit Agarwal, with his futuristic and iridescent collection; 'LUMEN'. His collection was an attempt to redefine bridal attire, synchronizing it with the insouciant millennial sensibility. Not only does the collection shed the wedding fuss and weight off our shoulders, it also incorporates sustainable materials. Well, Isn't that a step in the right direction!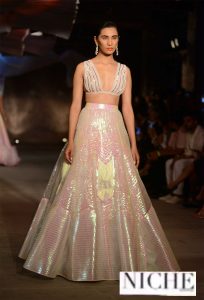 With subtle embroideries and embellishments, earthy and asymmetrical silhouettes, luminescent stripped drapes in cross and bias grains, creating volumes of effortless extravagance, the show highlighted the essence of fuss free bridal wear, with an environmentally friendly perspective to it.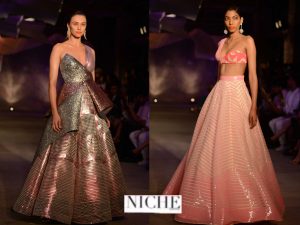 Most of the fabrics used in the collection were made using recyclable polyester stripes with less carbon imprint,creating light gossamer tulle lace instead of the traditional bridal fabric, Amit Aggarwal successfully set new precedents for traditional wear.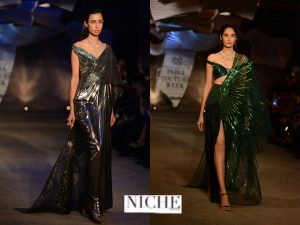 With a dominant presence of color and material, the collection relied mostly on the effect of the iridescent palette.  These colours ranged from the spectrum of emerald, petrol, purple and plum, with a mix of neon tones. For men, there was a range of bold yet subtly treated suits and Sherwani's, a perfect pick for the grooms best friend!