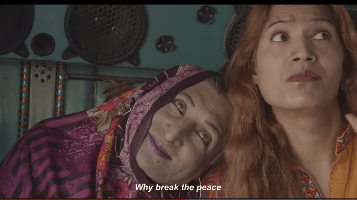 Ali Sethi dropped his music video "Rung" yesterday which is being praised by his fans for the lush scenery as well as his melodious voice. The singer had been teasing the arrival of the new track since a month ago when he dropped a screencap featuring two dancers from the video along with the caption explaining the meaning of "rung", which was ardor or passion.
View this post on Instagram
The music video was directed by Umar Riaz and Diane Desobeau and it was shot both in Lahore and New York. It comes across as a celebration of diversity and love as it features people enjoying the spring season who come from different backgrounds: an old couple listening to music together, two young boys dancing near a river and two trans women dancing in a courtyard with the singer's voice crooning in the background.
View this post on Instagram
The music video was uploaded on Ali Sethi's YouTube channel, where it had received up to 78K views in just a day. Fans have also flooded the channels comments and Twitter as well to praise the singer's soulful voice and his articulate ability to celebrate love in its uniqueness and glory in times when we needed it the most. Here are some of the responses listed below:
Ali Sethi makes sure I never fall out of love.

— Manahil Ali Pasha (@ManahilPasha) March 9, 2021
Ali Sethi can sing an obituary and still make it sound so melodic to make people go wah wah!

— The Nerdy Guy (@Siman_gulzar) March 8, 2021
ALI SETHI'S NEW MUSIC VIDEO IS THE MOST BEAUTIFUL THING I'VE EVER SEEN. PLEASE GO WATCH IT IF YOU HAVEN'T ALREADY. ❤💖💙💚💛💜

— ramsha.🌙 (@marrepoppins) March 10, 2021
You can watch the music video for "Rung" by clicking on the link below, and do let us know in the comments about your response to it!
by Mahnoor Jalal