Ahsan Moshin takes to his instagram to urge people not to judge others 
Minal Khan who is in the spotlight since long for her trending dramas that are currently being aired on Ary Digital. She has polished her acting skills and now has been gaining alot of popularity because of her great acting.
Her on-going drama serial Jalan has been in the lime light where Minal is playing a negative role and has a very different story line which was loved and hated by the fans at the same time.
Recently Minal and her close friend Ahsan Mohsin started sharing some pictures together and fans became a bit more sure of this close relationship when he gave her a surprise on her birthday.
Soon after Minal and Ahsan both shared a picture on their instagram with a caption that had two emoticons one of a heart and the other of a key. Though they both did not post anything about their relationship which could be taken as something official.
As Aiman and Minal celebrates their birthday with their friends from the industry a picture of Ahsan and Minal got alot of attention as the picture had the two radiating alot of love and charm.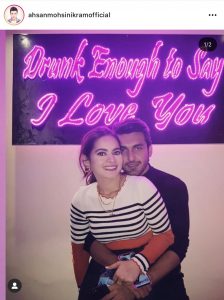 Noor Bukhari came forward and passed a comment that it is not right to post such pictures before getting married as they can mislead our youth.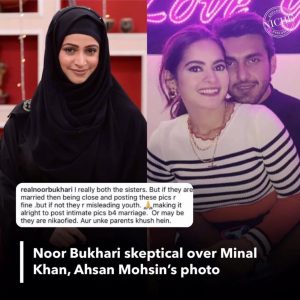 Ahsan today took to his instagram and has requested people to only judge themselves.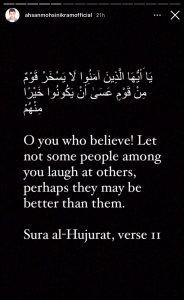 He further said, "Islam teaches us not to condemn others. Leave the judging to God. Worry about and judge only yourself." He said that every person is different and is going through a different journey and we all must respect each other as diversity adds richness to the world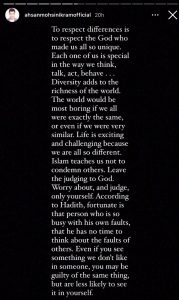 Let us know in the comments section on our instagram page of what you all think of this situation.