Actor and television host Ahmed Ali Butt thanked the rock singer and musician Ali Azmat for issuing a video clarifying the recent remarks he made about Pakistani music legend Noor Jehan in an interview which went viral on social media.
The Parey Hut Love actor shared a story on his Instagram account writing "Thankyou AliAzmat for your love and respect".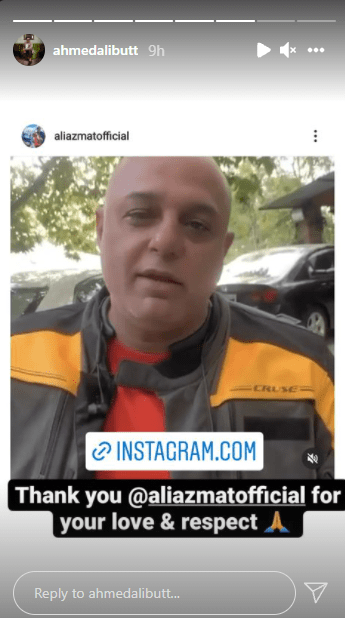 It all began with Ali's recent interview, which received much flak from netizens for his unnecessary and reckless comments about Madam Noor Jehan as he talked about the MTV music scene invasion.
View this post on Instagram
Soon, many celebrities also responded to the debate that had erupted over social media involving the late musical icon, Noor Jehan, and Ali Azmat, calling the singer out for speaking about the legendary icon in a casual and reckless manner. These included Pakistani actor Ahmed Ali Butt, who is also Noor Jehan's grandson, who responded saying "I'm sure he also knows how big of a legacy Noor Jehan has and 1000 rock bands can't measure up to her 1 song,"."
View this post on Instagram
However, disturbed by the social media storm Ali Azmat soon came up to invalidate claims about him having spoken in a derogatory manner about the late legend, saying the video had created an uproar as a result of having been edited by somebody, to create controversy. And so, it all ended well as Ahmed Ali Butt thanking Ali Azmat for all the "love and respect".