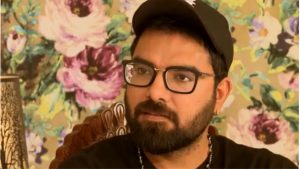 Actors in our industry are hypocrites as there are many actors from our industry who appreciate and agree to my blunt opinions but do not support me  on social media as they are scared to do so, but im not afraid of anyone, says Yasir Hussain in a recent interview with BBC Urdu.
Yasir Hussain is known for his honest and staright forward opinions in the industry. He often lands himself  in controversies and remains in the headlines for one reason or the other whereas he thinks that his jokes and comments should be taken lightly and Pakistanis should not make a controversy out of them but.
Recently he gave an interesting interview to BBC Urdu where he highlighted the issues going on in our industry. He mentioned how hard it is for actors to work these days as the production houses are not taking care of the necessary things needed on the set. He said that they have to work in this humid weather without air-conditioners and it no less than working in a factory.
When being asked about his blunt and straight forward opinions and remarks made in entertainment shows, he said that channels invite him to get ratings for their shows as he does not sugar-coat things and always speaks the truth which in the end becomes a controversy. He further said that our industry is very hypocritical and is filled with actors who hypocrites because everytime he posts something that is blunt yet true many of those actors call  and appreciate him but do not support him on social media as they are afraid of doing so.
Yasir think that the hosts, producers or makers of such entertainment shows should also be criticised  for asking questions rather than landing the guests only in hot waters as they are only there to answer those questions.