Aagha Ali slams media pages for twisting his statements and spreading false rumours about his opinions shared in an interview. The actor recently had an interview with Urdu News where he said, "I met a lot of women while working, I ended up becoming friends with quite a few, but most of them were rather pretentious. They weren't really like who they were pretending to be. When I worked with Hina, her realness really stood out. She isn't fake at all. She's honest and minds her own business."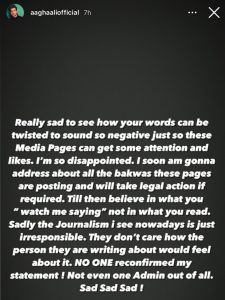 Aagha also shared why he and his wife Hina do not often post pictures together on social media. He said that he believes that personal life should be kept private and celebrities who share their private life very often on social media are maybe just trying to gain attention which they are unable to from their work.
Many bloggers and a few media pages on Instagram took his statement in a wrong way and started mentioning that Aagha might be referring to Sarah and Falak as they are most famous couple on the internet who share their private life very often on the social media.
Both Hina and Aagha took on their official Instagram handles and wrote a note to all those who were taking Aagha's statements in the wrong direction. Aagha mentioned that he is utterly disappointed that media are just trying to gain some rating for their pages by spreading false information and he might take legal action against them.