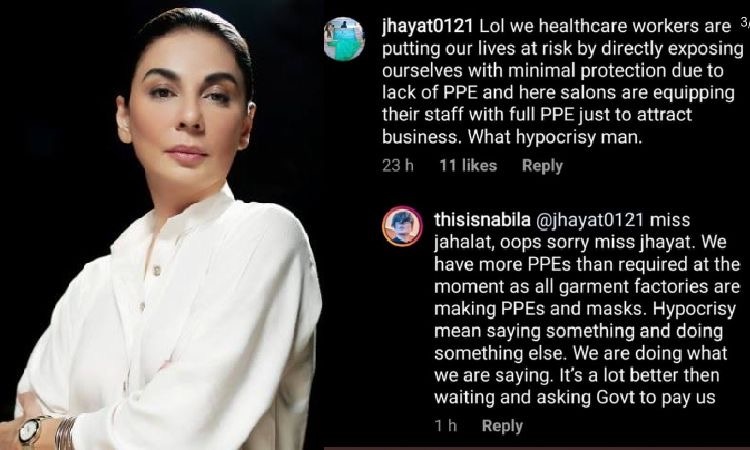 We were just going about our morning, scrolling through the million layers of social media when we tumbled upon a fiery discussion on a blogger's page about a salon, and while we'd like to admit otherwise, we did stop by for some tea and here's what we got:
Apparently an infamous salon, with branches in Lahore, Karachi and Islamabad re-opened its doors for customers introducing the a safety plan for both its employees and clients. The safety plan includes strict adherence to the dress code – employees must be in PPE gear while the clients will have to wear a mask, gown and gloves before entering the salon!
https://www.instagram.com/p/B_pvVhwBZgx/?utm_source=ig_embed
While the Salon may have had their best intentions in mind when drafting the safety plan – it sure did not pan out as they must've expected it to be. The salon re-opened its doors and the people are furious!
What made things worse was the fact the owner of the salon, when questioned, slammed people with harsh comments adding fuel to the fire. She even went ahead and called a frintline worker 'Jahalat' after twisting her name from 'Jhayat'.
Twitter is currently buzzing with tweets addressing the situation and here's some extra tea:
Okay so Nabila salon is using PPE whereas our healthcare department is facing shortage of masks/PPE, when doctors commented on their official page. Nabila herself replied to them with RUDE AF tone & even called "Jahalat" to this doctor. #NabilaSalon pic.twitter.com/4cL6yA49tO

— 🦋 (@kirannraza) May 6, 2020
Sis @nabila_salon actually actively thinks that people are jealous of her earnings and that's why she's coming under fire for opening her salon. Money does really fuck up the wiring of some peoples brains

— xenuak (@xenuak) May 6, 2020
Don't understand where individuals like @nabila_salon get their facts from. She seems to have confused essential masks with jeans that get rejected due to a few stitches gone wrong.

— Bilal Mustikhan (@BMustikhan) May 6, 2020
@Nabila_salon honestly aunty the levels of entitlement and exploitation that u have reached is appalling. Rot in hell.

— eman (@exharrie) May 5, 2020
https://twitter.com/almostmonday_/status/1257906301016977414
Nabila's salon is re-opening for business and it's staff are all wearing PPEs in a time where there's an extreme hortage and healthcare workers on the FRONT LINE don't have protective equipment for themselves.

— eman (@exharrie) May 5, 2020
I can't believe Nabila is actually being so rude to that doctor who asked her not to reopen the salon.
So shameful.

— ونیزا (@vaniza_08) May 6, 2020
Nabila's salon really think they fall under "essential workers." agar kuch mahiney 20 hazaar ki hajamat nahe karaye log tou unko maut nahe aayegi. Aunty, pls sit down

— shananigans (@shananigans_i) May 6, 2020
By the looks of it, this is something the masses will not see this as something acceptable especially when the death rate due to the virus has gone up in the past few hours.
What are your thoughts on the salon opening up? Let us know by leaving a comment on our Instagram page!