We got a chance to sit down and have a chat with the designer or dreams-Ansab Jahangir.
The designer presents the 'TARA' collection screaming royalty and sophiatication in Heirloom Bridals and Luxury formals alike.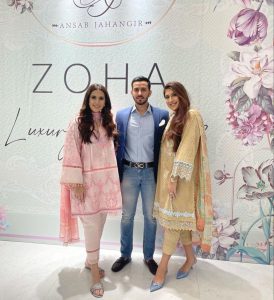 With a collection every year, how do you reinvent the collection to make it different from the last?
We try our best to incorporate the most recent colour and cut trends into our designs while staying true to our brand's aesthetics and historical roots. Normally, we place a lot of emphasis on one tone outfits, but this time around we have added digital prints and festive colour schemes to add a diverse element.
Are you someone who likes to stick to traditional techniques or prefer experimenting with newer ones?
We at Ansab Jahangir love to combine the two. We cater to a diverse group of customers, some who want the old school traditional bridal attire while others who prefer a more contemporary look. In our 'TARA' collection we have also experimented with fabric manipulation to appeal to a younger clientele that prefer modern silhouettes.
What was the inspiration behind the collection, what did the mood board look like?
The inspiration behind this collection was to showcase an array of bridals for each event: Mehendi, Shaadi and Valima. We wanted to give various options to the Bride along with her Bridesmaids.
Venturing into Menswear, while we had traditional colours like Taupe and Maroon, we also added a Lilac Sherwani in the collection.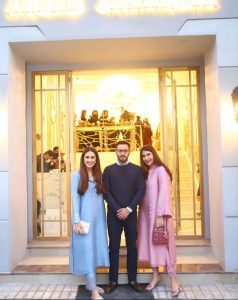 What is your favorite part of the design process?
Our absolute favorite part of the design process is when we play around with different work techniques keeping the mood board in mind and then choosing the best sample to go ahead with.
We see a hint of miniature art in some of the pieces from the Tara Collection, does art inspire your end product?
It certainly does! We like to incorporate mughal era elements into our heirloom chaadars that have Kashmiri handwork done on them. Through this miniature art, we try to depict a new wedding story in each collection.
As a leading brand in the nation, we would like to know the expectations and demands that in some way challenge the brand and the team.
Our customers anticipate that we will launch a new collection every month in each category. While we try our level best to meet the demand, there are so many categories that need to come out throughout the year, that it's difficult to cater to each genre so rapidly.
What is next for Ansab Jahangir as a brand?
The plan is to increase our footprint both nationally and internationally. The love we are getting as a brand by our customers has forced us to think of expanding and catering to the desi diaspora the world over.