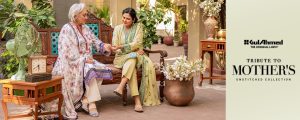 It's that time of year again! The weather is getting warmer and the flowers are in bloom, which can only mean one thing: it's time to start thinking about lawn. If you're not sure where to start, don't worry—we've got you covered.
During the summer months which may extend from February to September, lawn is the default fabric choice. It is a huge part of a Pakistani woman's summer wardrobe. When it comes to lawn, there is no brand bigger than GulAhmed. The textile powerhouse launches nearly 500 designs in the month of February to welcome the blooming season of spring.
In their releases, you will find an iconic edit titled The Tribute to Mothers Collection. This collection celebrates motherhood in all forms and scopes. The range is effortlessly stylish and it's made for daily wear. Available from 9th February instores and online, this lawn drop by GulAhmed features 60+ delightful designs in 1-piece and 3-piece fabric compositions.
Here are five of the hottest trends for this year's Tribute Collection.
One of the biggest trends this year is floral prints. While floral prints have been popular in the past, they're really coming into their own this year. The Tribute to Mother's Collection 2023 by GulAhmed is filled with pretty micro florals and vibrant botanical patterns. Their 1-piece fabric assortment is worth mentioning here as it gives you the easy to create the trendy matching separates look without breaking the budget.
Another big trend this season is pastel colors. Powder blue, blush pink, mint green—you name it, it's in style. Whether you're looking for a pretty daily wear outfit or something semi-formal, pastel colors are sure to make a statement.