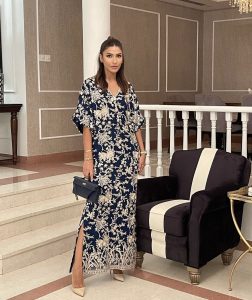 With the sweltering summer heat getting hard for your tender nerves yet a lined up invitation list to brunches and weddings, we know you need something to wear that makes you a head turner yet doesn't get too fussy. We find a very functional yet easy chic solution in Kaaftans.
Easy, breezy and beautiful, Kaaftans make you skip the 3 piece while still making it look like a very much Eastern ensemble.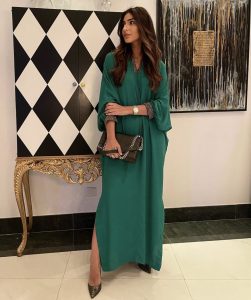 The versatality of the clothing item is such that it can be worn in various fabrics making it an easy option for summer brunches and summer weddings alike.
Kiran Malik is a style icon unlike any other and Kaaftans seem to be Kiran approved. Her Instagram feed is proof.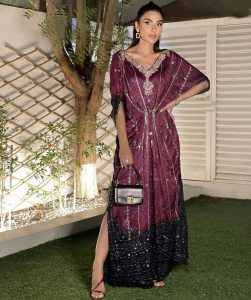 Kiran can be seen wearing a very chic blue and white Kaaftan by Mahgul, a deep green one by Purple Haze Studio and a rather formal purple one by Nadia Ellahi.
All of these pictures are solid evidence that a one piece stitched garment when paired with right accessories and makeup can seriously amp up your look. Wearing heels with Kaaftans seems to be the norm and we wouldn't change that. Definteley a classic combination.
Kaaftan's for Summer? Yes please!