'2 Years of Fantastic Tea' being celebrated by nation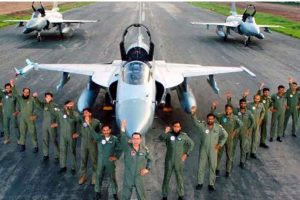 '2 Years of Fantastic Tea' is being celebrated today by nation as it was the 27th Of February, 2019 when Pakistan shot down an Indian plane and captured its pilot Wing Commander Abhinanda.
Pakistan Air Force (PAF) is also celebrating 'Surprise Day' today to pay tribute to valiant Shaheens' for their brave defence of the motherland while retaliating to Indian air force violation of its sovereign territories on 27th of February, 2019. The ceremony will be held at PAF Headquarters in Islamabad.
This is a memorable day for our Pakistan Air Force as they shot down two Indian aircrafts and captured one of their pilot, Abhinandan Varthaman, who was a Wing Commander.
As a goodwill gesture and to create peace between both the countries Prime Minister Imran Khan announced that Pakistan will send Abhinandan back to India. This gesture of our PM Imran Khan made the whole nature proud!
Abhinandan was offered tea and that video became viral on the internet where the pilot praised the country for their kind gestures and said that "Tea is fantastic."
PM Imran Khan also congratulated the nation and said , ""I congratulate the entire nation & salute our Armed Forces on the 2nd Anniversary of our response to India's illegal, reckless military adventure of airstrikes against Pakistan. As a proud & confident nation, we responded with determined resolve at a time & place of our choosing."